Kubo Kids Wig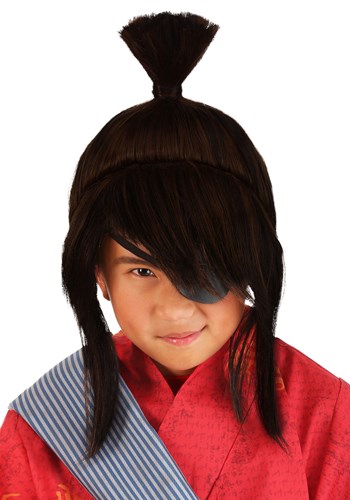 Kubo Kids Wig
The Most Powerful MagicSome folks say that perfection should be everyone's goal,
Get better and better until everything is exactly in the right place! It should look shiny, flawless, and sure to stay that way forever,
Well, that's kinda neat, we suppose,
But, that hardly is going to make a particularly fun story down the road, right!?The best kind of power out there is letting go, having fun, and making some memories that'll last you all your days! That's exactly what Kubo thinks,
We shouldn't be surprised,
Have you seen how wild this little guy's hair is? Bangs for days and a topknot that tops everything we've seen! Design & DetailsOur Made by Us design team has listened carefully to every word that Kubo said,
That's why we've got this great Kubo Wig for children,
It is a comfy mesh cap with synthetic hair that is styled just as wild and free as Kubo's own,
They'll love tossing their head back and feeling the topknot sway,
They'll enjoy brushing the long bangs out of their face,
And, who knows!? They just might need a strand to finish off a magical instrument someday, too! A Wild StyleKubo's grandpa might think that a porcelain face and never-changing perfection is great,
But, Kubo and your kiddo know that is no way to live,
Celebrate the fun of Kubo and the Two Strings with this officially licensed wig and let the fun begin!