Midnight Blue Tinsel Long Bob Wig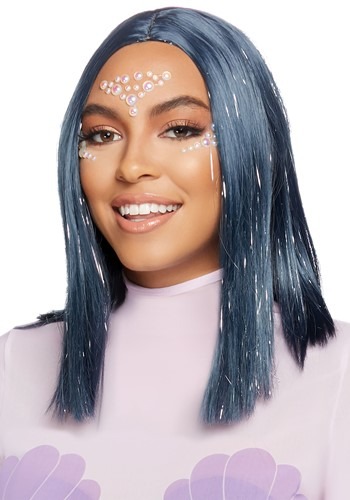 Midnight Blue Tinsel Long Bob Wig
Midnight in the MediterraneanCan you imagine what it would be like to live a mermaid lifestyle? We usually imagine them sitting on rocks, singing under waterfalls, and combing their hair,
But what about mermaids at night? What would that be like? Picture this,
The moon shines down on gentle waves in the middle of the seas,
It's quiet at first,
Then one shining head pops over the waves then another and another,
Hands wave toward the moon, dancing and singing like the mermaids are at their own private club,
And you know what, they pretty much are! While you might not be able to swim in the middle of the Mediterranean at midnight with a group of mystical beasts, you'll look like you just came from there when you're wearing this gorgeous blue wig. Product DetailsThis gorgeous wig looks like it's straight out of a fairy tale with a modern twist,
It's angled to fall just below your shoulders,
The deep blue is shot through with silver, making your appearance extra mysterious. From the DeepIf you're putting together a stand-out look, this wig is a great way to start,
Pair this with facial jewels and any of our mermaid, witch, or alien costumes and you're sure to feel extra mystical!