My Little Pony Twilight Sparkle Wig Adult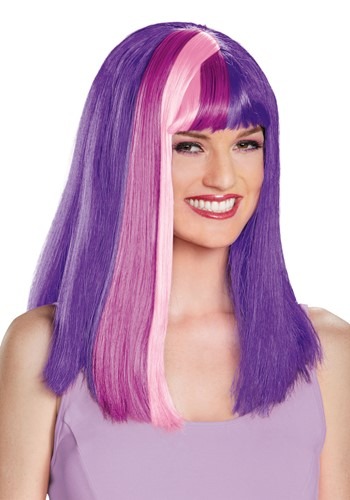 My Little Pony Twilight Sparkle Wig Adult
A Dazzling 'DoWhen Rarity first saw Twilight Sparkle, let's just say that she wasn't entirely impressed,
The poor unicorn had gone through quite a lot in her first tour of Ponyville and her mane was far from the pristine head of three-tone purple hair she was used to,
Fortunately, this fashionista is generous with her time and helped to restore Twily to her true glory,
With her horn hugged by a beautiful mane of magical hair, she's ready to take on any challenge..,
even becoming the Princess of Friendship and an alicorn to boot,
(Who knows how she's going to keep her hair in line while in flight!?) Product DetailsWhether you're enjoying life as an Earth Pony or taking to the skies, you can get a hairdo by Rarity, too! Just try on this officially licensed Twilight Sparkle Wig from My Little Pony and you'll be channeling the young Princess's power in no time,
The olefin hair is on a comfy cap and gives you the multicolored mane that Twilight Sparkle made famous,
Team it up with a pair of alicorn ears and a horn and you're ready for everything! Rarity Done RightNo need to worry about testing out your alicorn wings when you've got this Twilight Sparkle Wig,
Not only will you enjoy your lofty position on high, but you won't have to worry about the wind messing up your style!