Disney Descendants 3 Girls Teal Uma Wig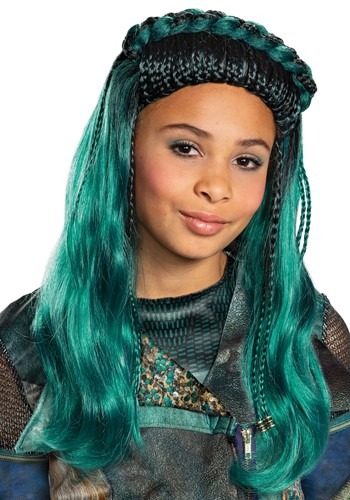 Disney Descendants 3 Girls Teal Uma Wig
A Sea-Green CaptainIt is an old staple that the captain of a pirate ship is going to be sporting a pretty awesome hat,
It's practically law! How else can anyone recognize the one who is commanding the seas and sending all of their scurvy dogs into a quake whenever an order isn't immediately followed!? Well, don't get us wrong,
The captain's hat is definitely a great look,
But, it's what is under the hat that is really what makes you recognized,
(The brain, for sure, but we're talking about the shine of the locks!) Some pirates sport luxurious black hair,
Black beards. Red beards,
They're all great,
But, none of that holds a candle to Uma's stunning green hair! Product DetailsThe only captain that holds our hearts in her hands is Uma, the aquatic captain and sea witch heir of Descendants fame,
And part of what makes her so infamous is her exotic green hair,
Make sure that you and yours can pull off your own Disney fame with this officially licensed Uma wig,
This is a polyester mesh cap that features synthetic turquoise hair styled and braided to look just like Uma's iconic look from the third film! Mermaid BraidsWhether your kiddo wants to wear the captain hat or show off that sea magic, this braided Uma wig will make sure that they are looking the part!