Savvy Pirate Beard and Mustache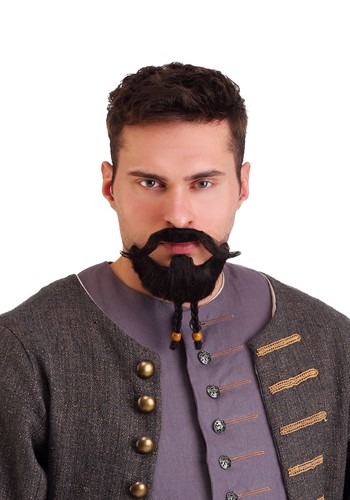 Savvy Pirate Beard and Mustache
PRIVATEER PROMOTIONYou'd think that it wouldn't be too often that there would be new positions available in a crew of 50 or fewer folks,
But, when you are talking about life on the high seas, complete with buried treasure, supernatural storms, and the periodic mutiny, there are suprising jumps up the Jacob's ladder!Still, to even be considered, you have to look the part,
"Dress for the job you want," they say! That means having the right look from head to toe; emphasis on the look,
That means a mean stache and period-appropriate beard braids! DESIGN & DETAILSTo ensure that you've always got the right facial accessorization going on for all your pirate imperatives, we have shaved all our in-house pirates and produced these wondrous whiskers,
The Savvy Pirate Beard and Mustache feature a simple adhesive for your face,
The mustache is styled with slightly upturned tips and the beard has two small braids at the chin that end in golden beads.INSTANT GROWTHNo need to worry about the perfect facial locks for your impending pirate mutiny (and subsequent ranking position on the ship),
With this Beaded Beard and Mustache kit, you're ready for all the action with none of the early morning styling required!