Long Wavy Wig Mystical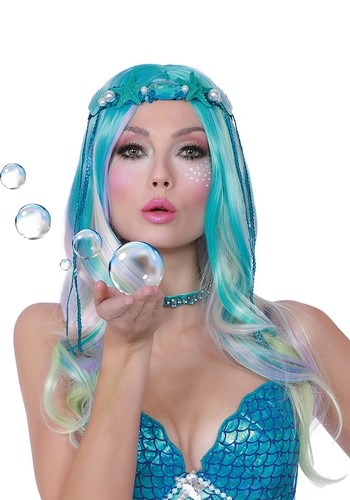 Long Wavy Wig Mystical
Seabreeze SalonDo you have your mermaid hair appointment yet? The Seabreeze Salon books appointments a year or more ahead of time and you'll need to prepare,
First, you'll need your solo scuba diving license to even get there,
Then, you'll have to book a boat of the fisherman's wharf in Grenada,
After that dive in and swim to a mysterious pearly dome at the bottom of the sea,
There you'll see a large sexy merman with lobster claws sitting at the front desk,
He'll check your appointment and escort you into the salon's dome where mermaid hair stylists await to give you that signature underseas look,
Expensive? Yes,
Dangerous? Of course,
Inconvenient? Totally,
But at least you've got the look, right? Product DetailsOf course, if you want to skip all the hassle of deep sea diving and blowing big bucks on undersea styling then you could simply choose to go with a gorgeous mermaid wig! This pastel look is rich with a variety of colors and has the gentle waves you'd expect from a siren lounging in a sunny seaside cove,
With lovely seashells and pearls, this wig pairs perfectly with a variety of our high-quality mermaid costumes so dive right in and take a look!