She Hulk Wig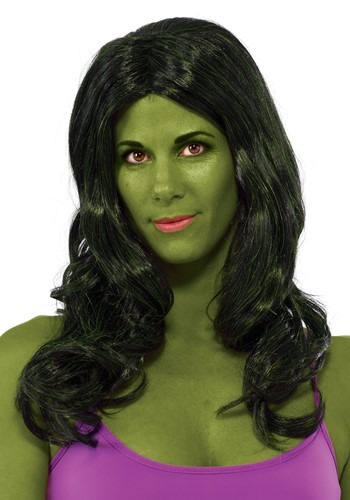 She Hulk Wig
A Hulking HeadWhenever the Gamma Particles ignite a dramatic transformation in the Marvel Universe, we expect muscles,
We know that a person is going to get huge! Tall, strong, and nigh-invulnerable, they're practically unstoppable given their mass,
(Of course, we hope that they are going to be on our side, too.)But, here's the thing,
We occasionally overlook some of the details of a Hulk's growth,
We've gotten better about making sure they've got stretchy fabric or pants with some give so things don't get too awkward,
But, there's one other part of a Hulk that could curl a whole gymnasium worth of weights,
We're talking about that gorgeous She Hulk hair! Product DetailsIf you're not sure that a little gamma radiation is going to let your hairdo get the job done, we're happy to help,
This officially licensed She Hulk Wig is a sure thing for superheroic style,
The wig features long, synthetic green hair that is all on a mesh cap with an elastic band,
The wig is both washable and the hair can be styled to your preference,
All you need to bring is the heroics! Transform in a FlashWhile regular Hulks sometimes need a serious cool-down period to go from their heroic business back to their day job, you won't have that struggle,
Put on this She Hulk Wig to get your Gamma on and then store it for next time when the mission is complete!