Egyptian Queen Wig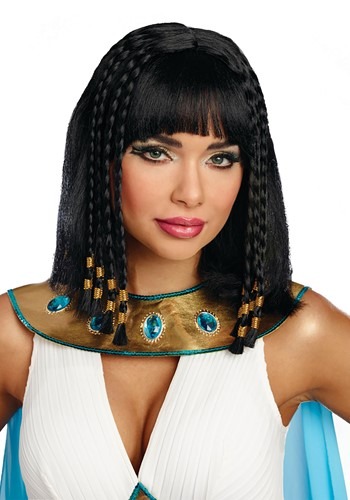 Egyptian Queen Wig
Ancient Beauty secretsWhen you're ruling an empire that's as elegant as Egypt, you've got to make sure your fashion is top notch,
Egyptian ladies knew how to look good, no matter how hot the desert sun got! Think brows are a new trend? Back in the day, people gained a bold brow by coloring their eyebrows with burnt almonds,
They fought sun damage by consistently moisturizing with oils,
Love a good face mask? So did the Egyptians, they'd mix honey and milk to create a fresh facial feeling,
But what about Queen Cleo, what was her beauty secret? Well, she was always whispering about Dead Sea salts to exfoliate and make her skin feel smooth and soft,
So she could feel confident no matter how wild the politics of the ancient world got,
What about those hair secrets, you ask? Well, there's not much too it,
Usually, ancient rulers borrowed their braids from someone else! You can too when you rock this fabulous Cleopatra wig!Product DetailsThis wig would look right at home in an Egyptian palace,
It has a classic Cleopatra cut and has braids in the front that are accented with gold,
We're sure that Cleopatra would totally approve,
With fringe bangs and a classic cut, this wig is sure to complement any of our Egyptian costumes just right!