Blue Jumbo Afro Wig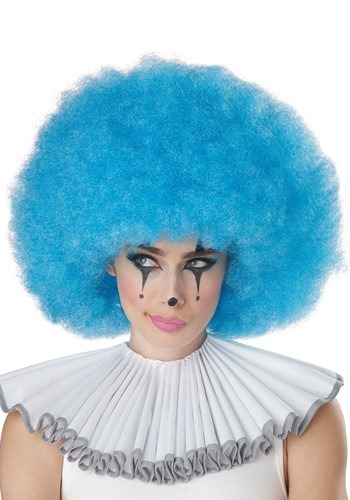 Blue Jumbo Afro Wig
So BlueSo, you're aspiring to be a clown are you? Well, do you have the outfit? Check,
The shoes? Check,
The extreme makeup? Check,
A high-octane, outlandishly-energetic, tad-overzealous persona? Check,
Well if you have all those things, then it sounds like your clown is nearly complete,
Nearly,
And what, you ask, is that final missing piece that will perfect your clownish self? Some clown hair, of course,
There's no way anyone will take your clown outfit seriously if you don't have some fantastically bright and wacky hair,
We know that's quite the tall order, and, as most of us aren't ready to commit to a head of rainbow-colored hair full-time, the next best thing is a colorful wig. Behold! Our Blue Jumbo Afro Clown Wig,
This baby is 100% synthetic hair on a mesh cap with elastic edge, to make your hair transformation oh-so-easy,
This wig is already curled and fluffed to epic proportions in a fantastic cotton-candy blue (so don't use any styling tools),
With this wig, you'll finally be able to realize your ideal clown,
Whether it's a happy one, a sad one, a terrifying one, or even a cute one, your dome will be donned with the best in blue.