Jumbo Afro Wig Pink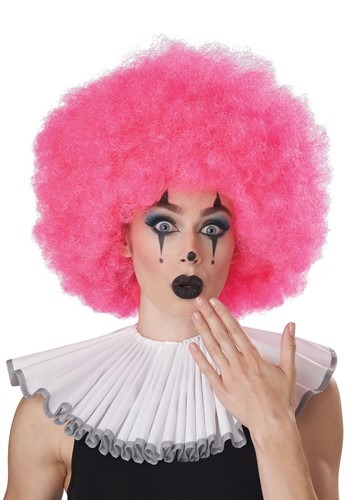 Jumbo Afro Wig Pink
Bubblegum DaydreamYoyo the clown has always been at the top of her clowning game,
She knows how to charm even the most fearful child with just the right amount of energy and charm,
At the same time, she's got that big top intensity when she's onstage,
She gets on the trapeze and she doesn't even have to worry about her nose falling off,
She's practiced till each part of her act was perfect,
While she takes her act rather seriously, she also knows how to have fun with her clowning outfit,
And nothing says serious clowning like a bouncy, colorful curly wig! It's the kind of detail that makes Yoyo's clowning dreams come true!Product DetailsThis hilarious wig will add a bright shot of color into any ensemble! The big, springy wig will remain on your head with a mesh cap that has an elastic edge. Juggling Your LookIt's easy to put together your perfect clowning look when you browse through our clown costumes,
Whether you start with the classic clown wig or you're looking for the perfect clown costume to match this bubble gum color, you're sure to love your look,
Who knows, you might even feel confident enough to try out something new,
Stilts, anyone?