German Beer Girl Wig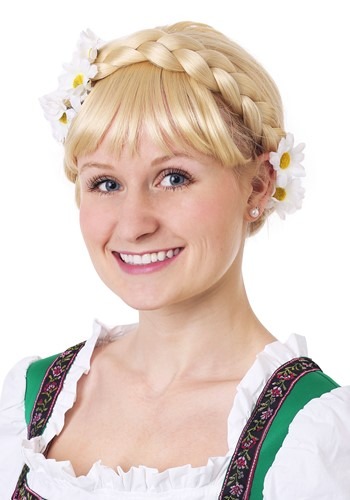 German Beer Girl Wig
Oktoberfest: Cure What Ales Ya!So you think you're ready for Oktoberfest? Have you been lifting steins in preparation for the endurance stein lifting competitions? How about Hammerschlagen? Have you been practicing your hammering skills? Okay, okay,
Maybe we should be honest,
Oktoberfest isn't about the activities,
It's about nomming on pretzels with a variety of mustards,
It's about "Prost"ing with strangers while Polka music plays in the background,
And, you know, it's about wearing that adorable Bavarian apparel! You can only wear dirndls a couple times a year, you might as well go for it. Product Details & DesignGive your hair an upgrade with this Made-By-Us wig,
The bright and shiny strands make up the pretty milkmaid braid,
It is accented with daisies behind the ear and on the side of the head,
Slip it on to match any of our gorgeous Octoberfest looks and you'll look like a real-deal Bavarian!Pinting AwayIt's natural to be a little broken hearted when Oktoberfest is over but when you invest in Made-By-Us costumes and accessories you know you can wear this look again and again,
Year after year you'll get better at Hammerschlagen,
It won't be long until you win the golden stein,
We believe in you!