Flower Power Wig for Women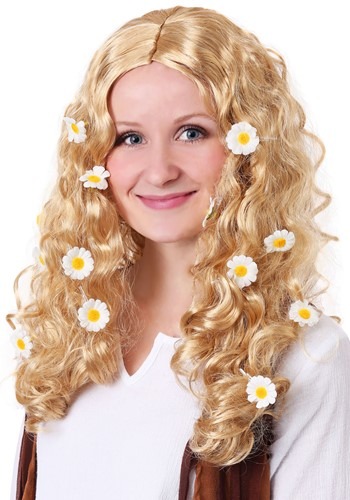 Flower Power Wig for Women
Daisy DaysBack in the 60s, life was...simpler,
Without the internet constantly pulling your attention in one direction or the other, without thousands of cable channels, streaming television, satellite radio, social media, and a "more, better, faster" work pace, you may have had time to just lay in the grass, picking daisies and tucking them into your perfectly curled, au naturel locks. But that was then,
Now, you work full time, volunteer on the weekends, have a busy social life, and run an online shop on the side, selling your gorgeous one-of-a-kind creations,
You barely have time to brush your hair some days, let alone adorn it with fresh blossoms,
This Women's Flower Power Wig, then, will offer you instant hippie-chic style to top off your Halloween costume, without taking an extra moment of your precious time! Design & DetailsThis exclusive blonde wig is the ideal way to finish off your groovy flower child look without frizzing out at a festival or taking a toll on your social calendar,
You can even wear it in the chilly Halloween season or dead of winter and the flowers will stay looking fresh! This wig has a stylish 60s-inspired center part, long length, and natural-looking curls, as well as daisy clips to adorn your 'do any which way you fancy! Peace, Wigs, and UnderstandingHey, we get how hard it is to perfect your costume when you're so dang busy! Luckily, this wig makes your 60s look a total no-brainer, so you can focus on more important things, like planning a protest, snagging tickets to the music festival of the century, or just being generally fabulous!