Child Ace Ventura Costume with Wig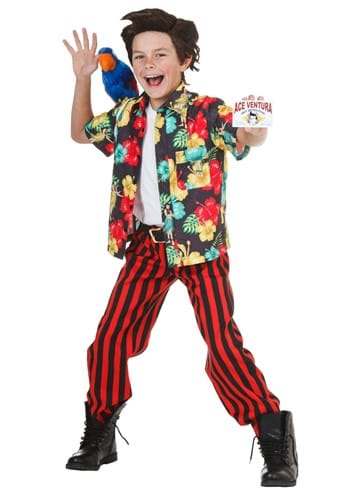 Child Ace Ventura Costume with Wig
Laces out! Our exclusive child-size Ace Ventura costume takes all the screwball fun of football conspiracies and animal whispering to a new level, letting your child suit up in Ace's one-of-a-kind private eye uniform! We've stayed as true as possible to the look of one of film's zaniest gumshoes, so he'll be able to have just as much goofy fun whether he's jawing with the Miami Dolphins or tracking down an actual bottlenose!We're not sure exactly what makes him equal parts weird guy and equally skilled detective, but the panache of those piratey pantaloons and the kitsch fun of a tropical shirt seem like important parts of his success,
And without Ace's unforgettable bedhead pompadour, his crazy facial contortions would fall a little flat,
That's why we included a high quality wig for kid-size heads,
And don't worry: it comes with a detailed pet detective badge, in case people need more proof of authenticity than a really enthusiastic alllrighty then!We know that not everybody was a fan of the movie which, depending on who you ask, was either one of the best or one of the worst comedies of the 90s,
But when we made this costume we adopted Ace's 100% commitment to each case, no matter what the naysayers think about his unconventional style and weird foibles,
And whether or not people appreciated Ace's crass sense of humor, we think they'll agree that this hilarious costume is fully deserving of critical acclaim!