Men's Chameleon Pop Star Hat w/ Wig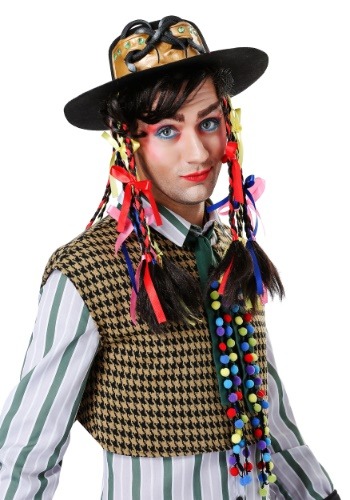 Men's Chameleon Pop Star Hat w/ Wig
OH, BOY!You know what they say about karma? It comes and it goes but always comes back again,
There's no escape and nothing you can do about it, except being a good person,
Be nice to others, and do good unto the world in hopes you'll reap what you sow,
That's our sage life advice,
Want more sage life advice? Here's another little tidbit: wear the men's chameleon pop star hat with wig,
Why? Because it's awesome and it will earn you some style karma this Halloween,
Actually, don't wait for Halloween to wear it,
Put it on right now, never take it off and envision all the good karma that's coming your way...DESIGN & DETAILSThe Made by Us accessory is durable, high quality and guaranteed to perfect your legendary disguise,
The wide brim hat features flashy rubber detailing and a 22-inch circumference,
On the hat's interior, an attached wig showcases brunette bangs and hanging braids,
Bright-colored ribbons are braided into each, truly capturing the appearance of the iconic 80's popstar,
(You know who we're talking about...right?)LIKE A DREAM Psst, here's a secret,
Pick up our exclusive chameleon pop star men's costume to pair with this hat!