Zapp Brannigan Costume with Wig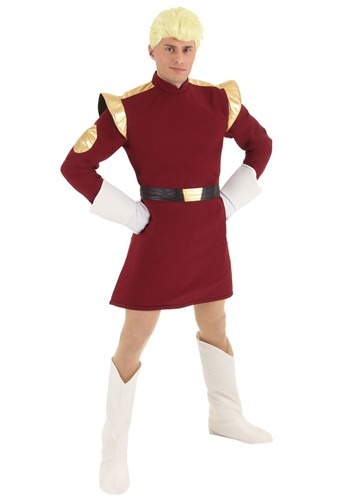 Zapp Brannigan Costume with Wig
Think you've got what it takes to pilot the Nimbus? The Democratic Order of Planets won't just entrust their flagship with any average shmuck,
No, you've got to be the most extraordinary spaceship captain they have ever encountered,
The most experienced pilot we know of is the Nimbus' current commander, the beloved Captain Zapp Brannigan,
With this officially licensed costume and wig set up, you can transform into this hilarious character from the animated series Futurama!Get ready to shout out orders and enforce Brannigan's Law this Halloween,
Once you toss on this shoulder-crested tunic, you will be well on your way to becoming the most celebrated captain in the D.O.O.P,
military forces! We don't know if you knew this, but Zapp is a 25-star General,
So it goes without saying that you'll have a lot to live up to,
But we believe in you! Once you pull up your foam boot covers and top off this futuristic look with the included wing, you'll look more than ready to take command of the Nimbus,
Grab an unenthusiastic friend to drag along with you on your wacky adventures as your very own "Kif".You'll have a blast this Halloween while you save the day with nothing but blissful ignorance and dumb luck or, as Zapp would call it, strategic commands and ambitious efforts,
Just remember that when you enforce Brannigan's Law, it is to be like Brannigan's love: hard and fast!