Girl's Pirate Princess Wig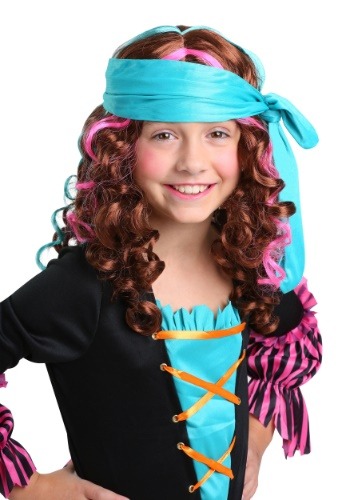 Girl's Pirate Princess Wig
Avast, ye cur, royal highness ahoy! There's not a lot of people pirates will maintain respect for,
The raiding, ship stealing life doesn't lend itself to kowtowing to anyone with a royal title,
When your daughter was found as a stowaway, off the coast of Barbados, those sea salt hardened hearts opened up a bit,
First, the captain kept putting off making her walk the plank,
Then, the cook in the galley started slipping her the best bits of hard tack,
Soon enough the crew were bringing her little trinkets and singing her sea shanties,
Your daughter has taken to the pirate's life but it's not all bad,
We hear she's been teaching those scallywags some manners,
They almost never spit on deck and they even ask one another to pass the rum rather than grabbing for it,
They're the most civilized crew in the Caribbean,
Who knows why they chose her as their leader? Maybe it's her charm, maybe it's her fantastic curls with pink highlights,
Either way, this life seems to suit her,
We're sure she'll visit home someday, after all, she's the one who tells them where to steer the ship these days!