Attack on Titan Adult Armin Wig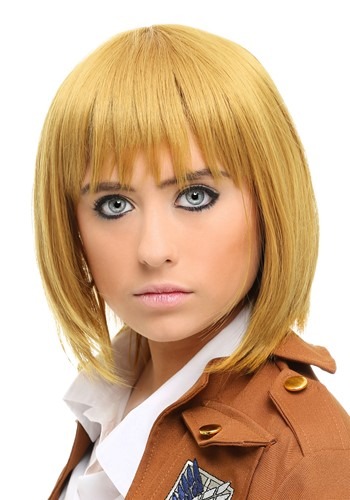 Attack on Titan Adult Armin Wig
Armin might not be as battle-hungry as Eren, or as deadly with a blade as Mikasa, but the guy makes up for it in spades with his head,
Not only is he great at cooking up plans to take on Titans, but he's also got a pretty nice blonde page boy cut! That haircut is truly the mark of a someone who can think on his toes, doesn't it? Of course, maintaining that kind of hairstyle in the midst of a battle (or cosplay convention) can be kind of rough, so we went ahead and made something to help out!This Attack on Titan Wig fully recreates the Hajime Isayama character's signature hairdo,
It uses synthetic blonde fibers to create a pageboy cut that has short bangs and longer sides,
An elastic band on the inside makes for an easy fit, so you can add it to your Survey Corps costume with ease!