Xena Wig for Women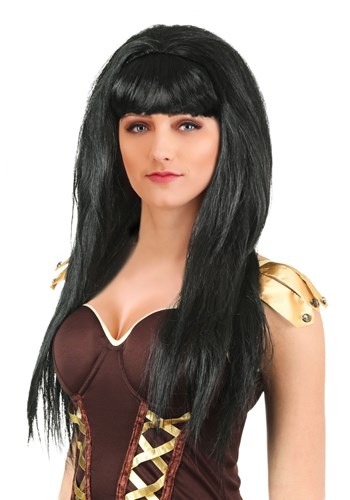 Xena Wig for Women
Few people are as thoroughly hardcore as Xena,
Thanks to her pressure point technique she can kick wholesale butt a hundred different ways with her bare hands alone, and fighting only gets easier for Xena when she uses her sword or trademark chakram,
(It's like a frisbee crossed with a rabid German Shepherd.) Xena's even been known to dispatch her foes with a wagon full of fish,
It's no wonder the Warrior Princess has made mincemeat of every monster and demigod that has dared to cross her path!But if you want to be Xena, it's not enough to know how to whoop everyone within a ten mile radius using only a ballpoint pen,
You've got to have that iconic hairdo too! Our officially licensed Xena Wig will give you Lucy Lawless' style without all the hair dye and bang trimming,
Just put it on and bring the hurt!Xena: Warrior Princess is a trademark of Universal TV Distribution Holdings LLC and a copyright of Universal Television Enterprises LLP,
Licensed by Universal Studios Licensing LLC 2016,
All Rights Reserved.